Food is an important part of our family's traditions!
We try to make dinnertime memories, celebrate holidays with family traditions, and enjoy the Superbowl with plenty of tailgate worthy foods. I already shared my tips for game-day foods for your NFC football teams. Now, it is time to include football food for your AFC Teams.
Football food tips for your AFC football teams-
AFC East Teams
Buffalo Bills   
Duh- You have to have buffalo wings!
Here is an easy recipe to bake them in the oven. This makes for less mess – always a plus!
Miami Dolphins
This first recommendation will not surprise you. I think a Cuban is a fantastic sandwich anytime, but it certainly fits the mold for a Miami tailgate.
The Miami New Times says something everyone coming to Miami should try is the Fruity Pebbles Donut at Mojo Donuts.
Why not make your own? Spread a small amount of cupcake icing on the donut, and follow with a handful of Fruity Pebbles.
---
New England Patriots
Think patriotic foods for this tailgate.
This easy, fun treat will be a hit with football fans of all ages.
Check out my post on Labor Day for more patriotic ideas.
Or, try this barbecue chicken pizza posted on Patriots.Com.
---

New York Jets
I want to go to a NY Jets game! I am totally a Minnesota Vikings fan, but my goodness the Jets know how to eat!
In 2015 the NY stadium unveiled their Jumbo Jet concession items.  One of which is this fabulous Jumbo Jet Sausage.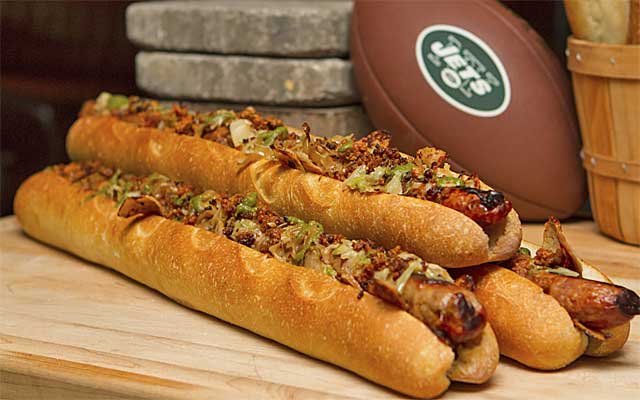 It is one pound of shaved chicken sausage, on top of a one-pound Italian sausage. Then, add on beer cheese, caramelized onions, sauerkraut, and chorizo sausage. I don't think I would be able to move after all that! But I bet it tastes amazing!
They also have a Jumbo Jet Breakfast Bagel. It is two pounds of breakfast sausage, four eggs, cheese and potato hash.
If that isn't enough to get you packing your bags, they also have the Jumbo Jet Pretzel. This delight is meant to be shared, as it comes in a pizza box.
This delight is meant to be shared. The supersized pretzel comes topped with chorizo, fried jalapenos, beer cheese, and mustard. I think I might have to take out a loan for all that yummy goodness! Read all about Jets football food at cbssports.com.
Or, make your own versions for your party at home.
Set up your own soft pretzel bar with toppings like beer cheese, mustard, jalapeno slices, bacon pieces and anything else you want. For a Sunday afternoon game, go for the bagel bar. Set out plenty of sausage patties, eggs (fried and scrambled), tomatoes, American and pepper-jack cheese, and anything else your heart desires. Have fun!
Any leftovers can be used for breakfast the next morning.
---
AFC South Teams

Houston Texans
H.E.B. Grocery in Texas has a lot of great football recipes, and I finally narrowed my choice down to this one. You can find the full recipe at their website.
---

Indianapolis Colts
---
Jacksonville Jaguars
I am so excited to try this next tailgate treat I may have to skip the game! Chef Scotty Schwartz from Jacksonville makes this tantalizing Pomeroy Barbeque Sundae.
It is a perfect layering of southern-style baked beans, barbeque, and slaw.
Fans like Chef Schwarz's foods so much that if he opens a Pop-Up Dinner, it sells out almost immediately. You can find the recipe for his Pomeroy Barbeque Sundae at Mercury News from an interview they did with him.
---
Tennessee Titans
I have never been to Hatti B's in Nashville, but I can tell you if I ever get to Nashville again… I am going! Reading about this fried chicken has my mouth watering and my stomach growling.  It looks divine in the picture, but reading the ingredients for their Nashville Hot Chicken definitely has me itching to try this recipe out. Come on Titans!!
---
AFC North Teams
Baltimore Ravens
Make it fun and easy with a semi-homemade dessert.
Buy or make cupcakes, dip in purple colored sugar. Then add a yellow beak, eyes, and eyebrows with icing!
Then add a yellow beak, eyes, and eyebrows with icing!
---
Cincinnati Bengals

Did you know NFLshop.com has recipes?
They posted this fruity Cincinnati Mocktail beverage on Pinterest. Wouldn't this cool you off after a nice bowl of Cincinnati chili?
Have fun with your beverages too. Maybe add a splash or two of amaretto?
If you really want a kick try adding some lemon infused vodka or even tequila.
Hey – depending on how the Bengals are playing… you might need a little something to relax.
---

Cleveland Browns
When in Cleveland, enjoy some corned beef!
Sandwiches are easy to prepare and won't break your budget.
Sandwiches of all types are great football food for your party inside, or out at the game.
Follow it up with some festive candies!
---

Pittsburgh Steelers
Steelers fans like kielbasa. This crock-pot bourbon glazed kielbasa is warm and cozy for those chilly football nights.  You can find the recipe from Tammilee here.
To make a simpler version, just brown the slices of kielbasa in a pan and then top with a piece of pineapple.
Noshtastic has several good gluten-free ideas including this pineapple kielbasa.
Of course, I feel you need to have fries for a Pittsburgh game. Why? Because they play at Heinz Field! And, fries make my list of great football food.
---
AFC West Teams

Denver Broncos
Have a little fun with this one –
Spray a pizza pan with cooking spray, and then roll out sugar cookie dough onto the pan. Cook in a preheated 325-degree oven for about 12-15 minutes (keep an eye on it, as cooking will vary depending on what sugar cookie dough you use).
Then, follow the directions on the box. But mostly, have fun!
---
Kansas City Chiefs
I didn't know a lot about Kansas City, so I had to do a little research.
Kansas City lies in both Kansas and Missouri. It is home to over 200 fountains, a long history of jazz musicians, and barbeque.
Even though barbeque is a favorite, I went with this Big Smoke Jerk Chicken Nachos dish that would have been appreciated by many of the jazz musicians of Kansas City.
You can find the recipe on the Chief's website.
---
Oakland Raiders
If you ask someone in Oakland about the most popular foods of their city, they will likely give a perplexed look. Oakland doesn't have one food that is iconic to the city. Rather, residents turn to either barbecue, Portuguese, or Mexican tastes.
If you read my post on 5-Minute Meals, you saw a fabulous recipe for Carnitas. Here is some information to get you started.
1 Pork Loin (Around 4 lbs, but no need to be exact)
2- 8 oz Packs of Carnita Sauce (see the image/link)
Small Flour Tortilla Packs
Directions:
Cut the pork into approximately one-pound pieces for even cooking. Add the pork to the crockpot. Add in all of one Carnita Sauce packet, and 1/2 of the other pack (save the rest for later). I don't add any water because the pork will release its own juices. Cover and cook on Low/Medium for around 6 hours. Remove the pork and either cut it into small pieces or shred it with a fork. Add the remaining sauce to the pork to let it get more flavor and return it to the crockpot.
---

San Diego Chargers
Two of the most popular foods in San Diego are french-dip sandwiches and fish tacos.
I personally worry about keeping the fish at the appropriate temperature for the tailgate, so here is an excellent french-dip recipe from Bunsintheoven.com.
---
 These are my tips for fabulous football foods!
What is your favorite football food or traditions? Tell us below so we can get more ideas for fun football celebrations.
So, whoever is playing – find a recipe for each team, celebrate, and yell loud for your team!
But, most of all, make memories with your family.
Now…
Are you ready for some football???     Don't forget the NFC Game-Day Foods!
Want some other tips for making memories with your kids? Or how about tips on talking to your kids , saving money on groceries, or quick meals?    Subscribe here for more of Tips from Toni.
Be sure to share this post and the Tips from Toni community on Facebook, Pinterest, Twitter and Instagram!